Bands
Band timings 2023
Download as PDF.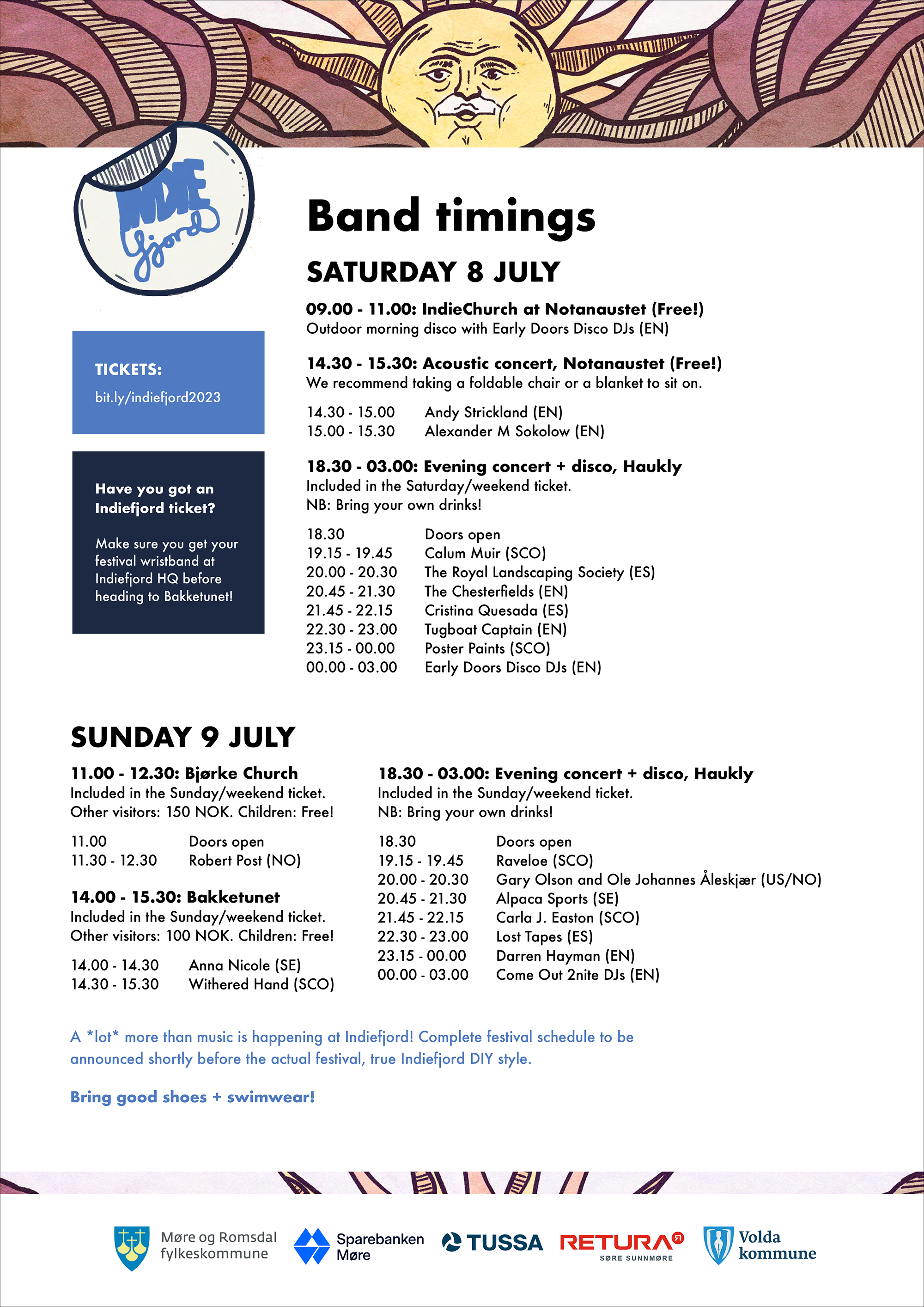 Bands and DJs: 
Darren Hayman (EN)
Withered Hand (SCO)
Alpaca Sports (SE)
Cristina Quesada (ES)
Gary Olson (US) and Ole Johannes Åleskjær (NO)
Poster Paints (SCO)
Tugboat Captain (EN)
The Chesterfields (EN)
Carla J. Easton (SCO)
Lost Tapes (ES)
Robert Post (NO)
The Royal Landscaping Society (ES)
Anna Nicole (SE)
Andy Strickland (EN)
Raveloe (SCO)
Alexander M Sokolow (EN)
Calum Muir (SCO)
Early Doors Disco DJs (EN)
Come Out 2nite DJs (EN)
Have a listen to this year's playlist:
Below you can see previous years' line-ups. 
___________________________________________________
Band timings, 2022:
Download band timings as a PDF here or see info below:
Bands and DJs:
Kip Berman (US) plays the songs of The Pains of Being Pure at Heart
Fightmilk (UK)
The Natvral (US)
Gary Olson (US) and Ole Johannes Åleskjær (NO)
Nick Garrie (UK)
The High Water Marks (US/NO)
Broken Chanter (SCOT)
Linzi Clark (SCOT)
Bedroom Eyes (SE)
Love, Burns (US)
Avind (NO)
Ben Phillipson (UK)
Brutalligators (UK)
Tugboat Captain (UK)
appleseeds! (DK)
Captain Handsome (UK)
Blueboy (NO)
Ulstein Mannskor (NO)
Alexander M Sokolow (UK)
Runar Bjørkvik Mæland (NO)
TheSverreSverre (NO)
Early Doors Disco DJs (UK)
Macho Musis is Stupid DJs (UK)
Indiefjord 2022 playlist:
////////////////________////////////////////////////////////_________________________///////////////
Bands that played Indiefjord 2019:
Gary Olson from The Ladybug Transistor (USA)
Darren Hanlon (Australia)
Monnone Alone (Australia)
Beverly Kills (Sweden)
Shelley Short (USA)
Sheahan Drive (Australia)
Rune Berg & Johnny Hide (Norway)
Melby (Sweden)
Simen Mitlid (Norway)
Jouska (Norway)
Ole Johannes Åleskjær from The Loch Ness Mouse (Norway)
Charlotte Jacobsen (Norway)
The Wit (Norway)
Wounded Bear (UK)
Brutalligators (UK)
Benedikt (Norway)
Selma (Norway)
Molly Silk and friends DJs (Norway)
Early Doors Disco DJs (UK)
Indiefjord 2019 playlist:
Band timings for 2019 can be found on the last page of the festival schedule – in English here, and in Norwegian here.
////////////////________////////////////////////////////////_________________________///////////////
Bands that played Indiefjord 2018:
The Burning Hell (Canada)
Agent blå (Sweden)
Amanda Mair (Sweden)
Stars in Coma (Sweden)
Egil Olsen (Norway)
Shikoswe (Norway)
Cocoanut Groove  (Sweden)
Selma & Gustaf (Sweden)
The Little Hands of Asphalt (Norway)
Jarle Skavhellen (Norway)
Stíne Norse (Norway/UK)
Stig Ulv (Norway)
Nervösa Hjärtan (Sweden)
Naomi's loop party – We are all mad here (Bolivia/Poland)
Firetop Mountain (Norway)
Yolobrothers (Norway)
Runar Bjørkvik Mæland (Norway)
The Springar frå Søre Sunnmøre Missionaries (NO)
Early Doors Disco DJs (UK)
Come Out 2nite DJs (UK)
Indiefjord 2018 playlist:
////////////////________////////////////////////////////////_________________________///////////////
Bands that played Indiefjord 2017:
TeenCanteen (Scotland)
Kid Canaveral (Scotland)
Young Romance (England)
The Electric Pop Group (Sweden)
Sam Airey (Wales)
Simen Mitlid (Norway)
Pale Lights (USA)
Matt from A Fine Day for Sailing/Banana and Louie (England)
Tinsel Heart (Sweden)
Trist Pike (Norway)
Matt Stead & Rob Ash (England)
Agent Blå (Sweden)
The Keep Left Signs (Sweden)
amini (Norway/England)
Indiana's Loss (Norway)
Dumpster Divas (Norway)
Brutalligators (England)
Edine & friends DJs (Hong Kong ++)
Early Doors Disco DJs (England)
A Spotify playlist to get you in the festival mood!
Band timings, Indiefjord 2017:
Band timings (in English) (PDF).
Bandtider – på norsk (in Norwegian) (PDF).
////////////////________////////////////////////////////////_________________________///////////////
Bands that played Indiefjord 2016:
The Tuts (UK)
Lyla Foy (UK)
Trust Fund (UK)
Robert Post (Norway)
Soda Fountain Rag (Norway/Italy)
Feivel (Sweden)
Red Shoe Diaries (UK)
Davina Shell from Thee Ahs (Canada/Holland)
Elin Grimstad from Je Suis Animal (Norway)
Lowpines (UK)
David Callahan from The Wolfhounds (UK)
Crying Day Care Choir (Sweden)
Joe Innes & The Cavalcade (UK)
Dead Flowers (UK)
BOYS (UK)
Avind (Norway)
Benjamin Southworth (UK)
Ketil Grøtting (Norway)
John Inge Leira Bjøringsøy (Norway)
Playhouse DJs (UK)
Early Doors Disco DJs (UK)
Outdoor stages: Notanaustet boathouse and Bakketunet.
Indoor stages: Haukly community hall (evenings) and Storfjord/Bjørke Church (daytime).
Evening concert timings can be downloaded here.
Below you can read about the bands that played Indiefjord 2015 and 2014.
—-//////——–///////—————///////////////———————-///—————-/////————////////—-///—
Band timings, Indiefjord 2015:
English: Click here to download band schedule in English.
Norsk/Norwegian: Klikk her for å laste ned bandtider på norsk.
These bands played in 2015:
________——-________————________——–________—————_______________——————-_____________—————–
An Indiefjord 2015 playlist:  
Following is a little introduction to each band by Indiefjord co-organiser Silja.
The Smittens (USA)

The Smittens were one of the inspirations for the name of the club night I run in London with my friends David and Roo. Their song "Gumdrops" featured some lines about "librarian" and a video from a library, and our name became "Librarians Wanted", somehow relating to the typical "librarian style" clothes many indiepop fans wear. The Smittens is one of the most well-known indiepop bands in the world, and that they are making their way all the way from America to little Bjørke in Norway is just fantastic. Their music is just infectious, you cannot help smiling and bopping along when you hear their songs. -S-
________——-________————________——–________—————_______________——————-_____________—————–
The School (UK)
Welsh band The School is a rather known band in the indiepop circles, and one that transcend the "scene". Their music is frequently played on the radio (in Norway recently played by Herreavdelingens Platesjappe) and they have been featured in soundtracks, such as for the film "Yo También (Me Too)" . Their songs "All I wanna do" and "I don't believe in love" are classics. The School is an 8-person strong band, so the stage at Haukly will be quite crowded. But you really don't want to miss these magical pop moments. The School's music draws influences from 60s music like The Shangri-Las and The Ronettes, so they will definitely be a new favourite for those who remember those times and for the younger nostalgics. Music to fall in love to! -S-
________——-________————________——–________—————_______________——————-_____________—————–
Egil Olsen (Norway)
Egil Olsen is a superstar in our region of Norway – and in fact, in China! He got known for the band Uncle's Institution, but quickly became just as known as just "Egil Olsen". He has made several low-key hits, such as "Singer / Songwriter" and "California". I have been a fan since around 2004-5 when I saw one of his music videos at Øya-Festivalen.  Still, my favourite songs all feature on the album he released earlier this year: "Ooo What Happened". It's album of the year for me, particularly after I heard him perform it live at Aasentunet. The story behind the album and the songs is a very moving one, and hopefully he will tell snippets of that at Indiefjord too. All the songs feel deeply personal, even to me as a listener they dig deep into my heart and my own feelings and life-experiences. Egil Olsen is a booking we are so thrilled to have made – and that he prioritises little Indiefjord during a summer when he's got so many bookings and splendid reviews is just fantastic. Egil, by the way, organised the first music festival in Bjørke – in a little boathouse the summer of 2013. Some of Norway's finest singer-songwriters performed for a maximum of 30 people. We were already toying with organising a festival in Bjørke at that point, but it encouraged us on even more. -S-
________——-________————________——–________—————_______________——————-_____________—————–
Let's Whisper (USA)

Colin Clary and Dana Kaplan from Let's Whisper are among the favourite indiepop people I've ever met. I hosted a Let's Whisper concert in London in 2011 with my Librarians Wanted buddies, and since then I've been hoping to organise another one here in Norway. Colin and Dana both play in The Smittens (also performing at Indiefjord), but their separate project is just as lovely. Their music is super cute and adorable, like kittens and candyfloss, and it suits them as they've got hearts of gold. Colin and Dana will be playing the Notanaustet boathouse and we're so excited this is really happening! -S-
________——-________————________——–________—————_______________——————-_____________—————–
Stig Ulv (Norway)

Stig Ulv is also local, and really well-known in our region (and beyond) for his fantastic guitar skills and dreamy instrumental music. Alongside Egil Olsen he played the tiny boathouse festival that took place in Bjørke prior to Indiefjord. I heard from my sister and co-organiser Ingvild that Stig's set was just magical in that setting. Stig's song titles are all in "nynorsk", but I'm sure he'll translate them for you. I've seen Stig Ulv live several times, and he always makes me giggle – great sense of humour. And then in the next second he makes me cry as the music is so moving. No wonder Stig and Egil Olsen are such great friends – they must have worked out these party tricks together… -S-
________——-________————________——–________—————_______________——————-_____________—————–
A Grave With No Name (UK)
I first heard A Grave With No Name when I was about to finalise this year's bookings. I saw a twee by a UK music journalist I admire, I think it was about "Orion". I instantly became a fan of Alexander Shields' songwriting and music – and I have a feeling A Grave With No Name will be very big. In fact, they kind of are already – so it's amazing they want to play our little festival. <3 It will be worth going to the festival to say you heard Alexander play live in little Bjørke one day. Can't wait to hear *that* guitar and *that* voice in Haukly. I love booking bands I know very little about just because I instantly fall in love with their music and think that you will, too! -S-
________——-________————________——–________—————_______________——————-_____________—————–
The Understudies (UK)

I've been a fan of The Understudies ever since I started attending indiepop gigs in London, probably saw them live for the first time at the wonderful How Does it Feel to be Loved club night (London's decidedly best <3). It was one of the bands me and my Librarians Wanted friends hosted. And we've always met on various London dancefloors and festivals + Thom in the band is a good friend of mine – he played in the legendary A Fine Day for Sailing and Ian played in the wonderful Pocketbooks. Bree and Brian's voices are fantastic – and Brian's quiff is the coolest I've seen. Indiepop royalty in other words. Can't wait to hang out with these lovely people in Bjørke and to dance to their set. They do give off a definite 50s-60s vibe, just look at the video above! -S-
________——-________————________——–________—————_______________——————-_____________—————–
Tramgirl Karaoke Club feat. Edine & Maskopet (Hong Kong, UK, Sweden)

I met the adorable Edine from Hong Kong at one of the concerts I organised with Librarians Wanted in London. She was in the audience, but I knew her music already as she played in The Marshmallow Kisses. I later was fortunate enough to have her record a song with Lisle Mitnik from Tiny Fireflies (USA) for Between Waves – The Second Wave, a compilation we did at EardrumsPop. I have really wanted to host a concert with her, and finally I had the chance. At Indiefjord she will be playing with another musician whose music I really love, Swedish Maskopet. Tramgirl Karaoke Club feat. Edine & Maskopet will no doubt be pop you'll sway to! -S-
________——-________————________——–________—————_______________——————-_____________—————–
Skóg (Norway)

I first heard of Skóg just a couple of weeks prior to the very first Indiefjord. In the local paper there was an article about Sondre Skorgen, who had started an indiepop band. This made me so happy, as the word "indiepop" was rarely used in our region, and I doubted there were bands that played this genre. How wrong I was – Skóg is indiepop of the highest quality, catchy choruses and happy vibes. Skóg are actually organising their annual barn concert in Hareid a week or two after Indiefjord and I'll make sure to attend that as well. It makes me happy and proud to see young people from Sunnmøre starting indiepop bands with international appeal. I bet our guests from abroad will break into huge smiles from seeing Skóg live, and this year it's wonderful to introduce some Norwegian bands to you. -S-
________——-________————________——–________—————_______________——————-_____________—————–
Slum of Legs (UK)

I have not yet had the pleasure of seeing Slum of Legs live – but this summer at Haukly my dreams will come true! I first met lead singer Tamsin Chapman at last year's Indiefjord, actually. She was there as a guest – and this year she's performing! My friends Emily Kawasaki and Alex Othen play in this band, and Emily has also played in my favourite indiepop label Fortuna POP!'s The Chemistry Experiment. If you thought Spice Girls and girl power were synonyms, replace Spice Girls with Slum of Legs, remove commercial pop and add fuzz, noise and Tamsin's fantastic voice + stage antics. The Slum of Legs live shows are rumoured to be immense and their songs have received great reviews. We're looking forward to a little part of the talented DIY Brighton scene coming to Bjørke. -S-
________——-________————________——–________—————_______________——————-_____________—————–

Chorusgirl (UK)

I first met Silvi Wersing when DJing with Librarians Wanted during Indietracks – the world's best indiepop festival. Silvi was then playing with Mikrofisch (Germany), a band she had formed with her friend Matthias Weber. We bonded over the love for all things Moustache of Insanity (UK). If you haven't heard Mikrofisch or MoI, check them out! Part of my formative music years for sure (late bloomer, so in my mid-20s!). When Silvi started her new project I knew it would be good – and indeed it was: Darkish fuzzpop with guitar riffs and her really great voice. Chorusgirl will totally rock the Haukly stage. If you're a fan of Hole or other 90s indie rock bands, you will love, love, love Chorusgirl. Silvi has got a great sense of humour too, and is awesomeness impersonated.  -S-
________——-________————________——–________—————_______________——————-_____________—————–

Owl & Mouse (UK)

Owl & Mouse are already big in Bjørke! They played Indiefjord last year and quickly became local media's darlings. We know they made plenty of new fans too who are begging them to come back. They were photographed swimming in the fjord and having a whale(!) of a time, and when we were about to start booking again media picked up on Owl & Mouse having said they really wanted to play Indiefjord again. Anyway, they are among our very favourite people and bands, so we are extremely happy to have them playing again! We told the story of how we met Hannah Botting when listing the bands for 2014 (scroll down), but again it's down to the really friendly, little indiepop scene in London and some really wonderful dancefloors. If I could, we would have Hannah & co play every concert and festival I ever organise. They're the best. <3 Prior to Indiefjord they'll be touring Norway with The Smittens, Laura K and Let's Whisper –  tour aptly named #tourway! -S-
________——-________————________——–________—————_______________——————-_____________—————–

Moscow Centre (UK)

We first met Moscow Centre at last year's Indiefjord. Both Jonathan Meacock and Tamsin Chapman were guests at the festival, and later formed this band. Their performance at Indiefjord will be one of Moscow Centre's first, or maybe even the first? If Tamsin's fantastic voice is anything to go by, and the few songs we've heard so far (fuzzzzz) – it will be amazing. Tamsin will be playing with Slum of Legs too, and Jonathan will in addition to playing actually work as a sound engineer at the festival. For the love of DIY! <3 PS: Jonathan used to play in The Mai 68s (UK).
________——-________————________——–________—————_______________——————-_____________—————–
Laura K (UK/Australia)

Laura K (Laura Kovic) from Australia plays in one of my favourite London bands, Tigercats. Her voice is just perfect alongside Duncan Barrett's, but as a solo artist it shines through even more. Being part of the net label EardrumsPop I've been aware of her songs for a while. Laura K released a single with us which you can download for free here, and she also sang on the Jacob Borshard EP we released – which sounds like the soundtrack to some wonderful indie rom-com, or something by Wes Anderson. We know Laura hasn't performed solo much, so it will be a rare opportunity to hear her songs. Just Laura, with a ukulele, on stage. Laura will be doing #tourway with Owl & Mouse, The Smittens and Let's Whisper prior to our festival, so lucky Norway! -S-
________——-________————________——–________—————_______________——————-_____________—————–
Torkjel Bruland Lavoll (Norway)

I know Torkjel through my sister and co-organiser Ingvild, as they worked in the same office for a while. When Torkjel is not spending his time on architecture, he is playing the Hardanger fiddle (Hardingfele), and he is highly respected in the field. It's with pleasure we can tell you that he's playing in the Notanaustet boathouse, and we're predicting handclaps and foot stomps from the audience, as it will be really catchy. It's quite a unique indiepop festival experience to attend a Hardanger fiddle concert by a fjord. Don't miss out! -S-
________——-________————________——–________—————_______________——————-_____________—————–
Ida Glomnes (Norway)

We were tipped off about Ida Glomnes by one of her fans, as he thought she'd be perfect for Indiefjord. And we agree! Ida is currently studying music in London, but she is from the local area. She performed at The Voice in 2012 and is pop star material. I really love her track Windwaves and the accompanying video which is shot in our region, and we can't wait to hear the rest of her songs. Ida will be performing in the Notanaustet boathouse, and I think the location will really suit her songs. -S-
________——-________————________——–________—————_______________——————-_____________—————–
King of Cats (UK)

Max Levy, aka King of Cats, is part of the Brighton DIY scene. When I first met him he was about 18 years old and traveled down to London from his then hometown Oxford to attend a Haiku Salut gig we in Librarians Wanted organised. He then gave us a demo with his songs and stayed on my friends' sofa. Since then I kind of feel I've seen Max growing up – and have grabbed any excuse to put on a gig with him. I've seen Max playing the guitar and singing while lying down on the floor, his singing voice going falsetto then almost turning into screaming, or him telling us little stories. The performances are wonderful, unpredictable and unforgettable and I am 100% sure Max is a genius, musically and otherwise. Max's voice and songwriting remind me of Daniel Johnston and although still a young man the songs feel like made by someone who's lived a long, interesting life. Max's early songs are sweet indiepop tunes, then they've advanced into more punky stuff, but he constantly changes. I am a huge King of Cats fan, just seeing Max makes me break into a smile and feel like giving him a big hug like the goofy "indiepop aunt" I am. -S-
________——-________————________——–________—————_______________——————-_____________—————–
Les Bicyclettes de Belsize (UK)

Finally I'll get to meet the lovely Charlie Darling of Les Bicyclettes de Belsize in person, and see him perform! We were meant to meet years ago when Librarians Wanted were putting on his former band Paisley and Charlie. Sadly they had to cancel, and our paths didn't cross again other than on Facebook, where we've been communicating quite frequently. So it's a great pleasure to be able to introduce his new musical project. On stage it will be Charlie and his guitar, and judging by the sound we'll be transported back to London in the 60s. Gentle, melodic indiepop that will melt your hearts. -S-
________——-________————________——–________—————_______________——————-_____________—————–
Recordsville DJs (UK)
I first met Linda Yarwood and Kevin Birchall (known as just "Linda-and-Kev" or "Kev-and-Linda" in indiepop circles) at my very first Indietracks. The lovely couple are hard not to notice, as they've got these radiant smiles and Linda always wears the coolest outfits. Often Christie the charity teddybear is with them, too. Linda and Kev play fantastic DJ sets as Ready Steady Girls, with particular focus on northern soul and girl groups. They've also got a DJ concept that features more indiepop, which they call Recordsville, so this will be the club they're DJing as at Indiefjord. Linda and Kev organise this amazing indiepop festival in the UK every year, just a few weeks before Indiefjord. If you've got the chance you should definitely go. It's in beautiful Congleton, is for charity, and is called Going up the Country (great name and song!). Photo by Ian Watson at How Does it Feel to be Loved. -S-
________——-________————________——–________—————_______________——————-_____________—————–
Stole Wine Social DJs (UK)
Canadian sisters Karren and Sandy Gill run one of our favourite London club nights, Stolen Wine Social. They're really talented DJs with great taste in music – some of my best dancing memories include Pulp – "Babies" sometime in 2011, it couldn't have been better live. Karren and Sandy are in addition really dancy when DJing, they're part of it all, they don't just stand still and play the songs. Before moving to London they were really involved in the Canadian indiepop scene too, and we're so happy their bringing their music collection to Norway. Other of my favourite music memories with these two consist of jumping up and down and fistpumping to our favourite bands Moustache of Insanity (UK) and Help Stamp Out Loneliness (UK). I hope and think Stolen Wine Social will play lots of HSOL songs in their DJ sets! -S-
________——-________————________——–________—————_______________——————-_____________—————–
And now you've read about our 2016 and '15 line-ups you may be bored of reading. But in case you are curious, here you can read about the very first Indiefjord line-up – the 2014 edition…
2014 line-up: 
A Spotify playlist featuring most of the bands that played Indiefjord 2014. <3!
Scroll down to read about, and listen to, the amazing bands that played Indiefjord in 2014:
I have loved Don't Cry Shopgirl since the first listen. To me, they feel like the new Pains of Being Pure at Heart! They should definitely be the next big indiepop/shoegaze thing. Don't Cry Shopgirl consists of Astrid Wiezell and John Svensson from Stockholm, two genuinely lovely and talented people.  I have never seen Don't Cry Shopgirl live and Indiefjord will be the perfect occasion. Great melodies and so dancy! – Silja
This band is based on previous members from The Animal Five, one of Sweden's most famous and successful indie-bands. I have myself experienced several of their performances and it has always been a beyond-intense experience! One such occasion was when they played a local sports bar in the town I lived in. Even though there were maybe four people (including me) that had heard about the band before – and that wasn't just there to watch sport on widescreen tv – they managed to take over the whole place and to be even more annoying than the local drunkards. Canary Islands is something new and to our great pleasure a more pop-oriented band. You should expect nothing less than a brilliant and entertaining live show coupled with songs that will stay in your hearts forever!! We are extremely proud to present one of the best bands of Sweden and in the world: Canary Islands!!! – Mattias
We're more than happy to have a local playing at the festival! Elin is no stranger to Indiepop though since she's the singer in the band Je Suis Animal that's played around the Indie world since 2004. Silja once noticed Elin on the local airplane to London and then was even more puzzeled when she spotted her at the Indietracks festival. Indiepoppers are attracted to indiepoppers apparently! – Mattias
I first met Finnmark's frontman Edward Forth when he played with Just Handshakes at Librarians Wanted in 2012. and I'm a big fan of his Scandinavian-inspired lyrics and melodies (and clothes!). When I first heard "Brännö" I was hooked. I can't wait to see Ed performing his songs with a full band, and will proudly wear my Finnmark! badge at Indiefjord. All his songs feel like they could become indiepop classics. Weirdly, I also feel there's a hint of Joy Divsion in his songs. Of course, with a name like "Finnmark" this band will go down with a patriotic Norwegian audience! – Silja

Firestations played the very first Librarians Wanted in London in December 2010. I have since wanted to book them again and Indiefjord is my chance to do so!  Their music is just so mesmerising – frontman Michael Cranny's voice and the melodies remind me of Kings of Convenience/Erlend Øye – but with their own distinct style. "No Reply" is so fantastic. I want more people to know about and love Firestations. So enjoy, friends! – Silja
Haiku Salut's band members are not only amazingly talented, but so much fun to hang out with too. Dancing at the Indietracks disco with facepaint on, nightswimming in Sweden during Cosy Den, Gemma Barkerwood, Sophie Barkerwood and Louise Croft are the perfect Indiefjord people! Their music is out of this world. It sounds like the soundtrack for the new Amelie film if there ever was one, an it can bring tears to your eyes. The first time I saw them live was at a gig with only ten or so people in the audience, and it's amazing to see the huge audience they have today. Their debut album was released on "How Does it Feel to be Loved?", a label I have a lot of love for too. Haiku Salut played Librarians Wanted in May 2011, a gig when I met some very special people. So they feel like part of the soundtrack to my life for sure. Moments spent listening to Haiku Salut are 100% magical.  Also, check out the absolutely amazing video below! – Silja
Lisa Bouvier is one of the most talented song-writers I know and if you get to see her live it's just an explosion of energy. If you want to dance and smile you shouldn't miss her gig! Lisa finds her inspiration in wide spectrum of music, but she's clearly affected by Swedish Indiepop like Marit Bergman and Hello Saferide. You can sense a bit of mr Springsteen in some of her songs as well. She has released several records and when she's not busy playing her own music she's also a member of two legendary Indipop bands: The Flamates and The Proctors. If you've never been to an Indiepop-festival this video will give you some clues to why you shouldn't miss the opportunity. – Mattias
Lost Summer Kitten was formed when the Swedish punk/pop-band The Sheeboes split up and two of the members needed a place to channel their sad emotions. Matilda Hjärtstam and Lisa Bouvier set out to write the saddest popsongs with quiet arrangements and soft acoustic guitars. I got to see them for the first time when they were opening for my band at a local gay club gig. I remember telling my fellow bandmembers that it was the best music ever! Lost Summer Kitten has evolved and with the addition of Amanda Nordin, Dennis Hollström and myself it's now more of a upbeat clap-your-hands kind of popband. There will be sweet melodies and brilliant harmonies! – Mattias
After years of playing with Stars in Coma, Lisa Bouvier and Lost Summer Kitten (all playing at Indiefjord Fest 2014!!!) and the encouragement of his friends, Matt Bouvier (me) thought it was about time to start a solo project in 2011. My first record "death & hope" was released in 2012. My songs usually have happy pop melodies coupled with dark lyrical themes. If you haven't danced to a song about miscarriage or death this is your chance!! I will have a all-star band joining me onstage with members from other Indiefjord acts and more. – Mattias
I first met Astrid Wiezell (Northern Spies) at Indietracks in 2012. A few months later she'd added a demo on her Facebook wall, and I got curious – I didn't know she was in a band. I ended up listening to the song on repeat, and Northern Spies was instantly one of my favourite bands. I don't even remember if she had a band name back then. As I had recently become part of EardrumsPop (a non-profit indiepop net label), I suggested we make an EP with Astrid. Luckily the ePop guys agreed. I am so proud of her EP, she even did a cover of The Smittens' "First Bus" in Swedish that is just stunning. What I love about Astrid in addition to her music is that she's got a fun, friendly personality – and she doesn't like just the "right kind of music". Her "I Wanna Dance with Somebody" cover is great! Astrid also plays Indiefjord with Don't Cry Shopgirl. – Silja
Owl & Mouse (Australia/England)
I first saw Hannah Botting plays as Owl & Mouse at "How Does It Feel to be Loved? presents" in early 2011. A little later I got to know her better at our friend Matt Stead's legendary "Read and Shout" festival.  We bonded over our want to save the libraries and our love for Jens Lekman. We've since enjoyed dancing our hearts out to Black Cab at Indietracks and much more. Owl & Mouse is one of my favourite bands on this planet, and has been so since that HDIF gig in 2011. They are often compared with Allo Darlin', maybe due to the ukulele and Australian accent, but Owl & Mouse has got their own unique and heartbreakingly beautiful style. Plus, it always feels like summer when Hannah sings. The band now consists of Hannah, her sister Jen Botting, Tom Wade and Emma Winston. Sometimes it's just Hannah on her ukulele, and that too, is out of this world. – Silja
Stars in Coma is the musical outlet of André Brorsson's creative ideas. He shows us that Indiepop doesn't have to be simple melodies and words about everyday life. With his poetic song-writing and sometimes rather advanced musical arrangements in harmony with danceable hooks, Stars in Coma has taken the Indie world by storm. With releases from several parts of the world and what seems to be a neverending stream of new and amazing music, André has made Stars in Coma one of the most recognisable bands in Indiepop. You won't leave his gig without one of his songs still playing in your head – I guarantee it! On stage André has surrounded himself with a band filled with great musicians that often make his songs develop into completely new shapes. Indiefjord 2014 are very proud to present one of the best bands in the world: Stars in Coma – Mattias
We are both partial to Scottish bands, it's something about the awesome accent and the sense of humour and the pure energy. The band consists of Nye Todd, Adam Todd, Anna Cory and Niall McCamley – and they are just bundles of energy and riffs and great melodies and lyrics. They are like the love children of Standard Fare and Ballboy. Or something. It also helps that the drummer Niall makes funny jokes on stage and has got the world's coolest moustache. He is a more handsome and younger version of Norwegian comedy hero Jon Skolmen ("S.O.S Selskapsreisen"). Anyway, seeing The Spook School live is just fantastic. Mattias saw them live first and became an instant fan. He couldn't stop talking about how cool they were. I liked their songs but was blown away when they played The Big Pink Cake Christmas Party. So we were both really really hoping they wanted to play Indiefjord. And they did – so, please welcome Scotland's finest!  – Silja
+ After the bands! DJs: Big Pink Cake, Librarians Wanted and Pardon My Swedish!
Matthew Rimell from Big Pink Cake is a friend we very much admire and enjoy spending time with. He's the frontman of The Fireworks and also runs Big Pink Cake, a record label and a club. He is also as genuine as you can get and has got the best striped jumpers in the indiepop scene. His DJ sets always makes us dance like there's no tomorrow. He'll make sure to turn the volume up to the max and to add fuzzzzz if there's none. Matthew will DJ on the Saturday after the bands and we hope to dance until late this bright summer night.
Hopefully Roo and David from Librarians Wanted will be able to make it over to join their partner in crime Silja (Indiefjord organiser) on the decks. We play loud indiepop, post-punk and just music we like. A song is only danceable if you can fistspump to it! Silja and Roo met David at Indietracks in 2010 and they bonded during a Stars in Coma gig. Soon after the club night was launched and they had to learn how to DJ quick!
Librarians Wanted popcast no.4 by Librarians_Wanted on Mixcloud
Pardon My Swedish! is the club night Mattias (Indiefjord organiser) ran in London with his bandmate Lisa Bouvier, playing Swedish music only. Their club nights included free gingerbread cookies and people going crazy on the dancefloor/singing along to Broder Daniel. Pardon My Swedish! still plays Swedish music only. The world can never get enough of Swedish music.
Pardon My Swedish! and Librarians Wanted will be DJing on Sunday after the bands, and/or when music is needed to fill awkward silences.